We have been living in Paris for almost a year.
We came here for medical reasons.
Loic has an incurable disease.
A nerve located in the brain has been affected following an assault in January 2012
It is not "curable" inoperable, he was condemned
He suffers from severe headaches that prevent him from having a "normal" everyday life.
In fact, it's a bit as if he had a bomb in his head that can explode at any moment.
The experimental medical treatment he takes every day reduces pain for a few hours.

We decided to live each day as if it were the last one.
We chose not to suffer, but to move forward as we have always done.
We are incredible lucky, that is of being two , to love and to approach things in life the same way .
There is therefore no question of staying locked in and wait for death.
We both love life and will enjoy every moment spent together.
Professors have advised us to find an occupation that actually keeps the mind busy every morning while the drugs are working best.
We have made our passion for culture our daily mantra .
We discover Paris every morning and share our walks, our visits, our latest passions for places with you.
You who love Paris , culture, art ...
That you can not move for various reasons,
You , our friends around the world ...
As Loic needs to use a wheelchair , we also check the accessibility of places we visit .
Loic takes photos with his cell phone and I put them online in the afternoon while he's having some rest.
We share our photo albums with you.
Christine and Loïc Trébern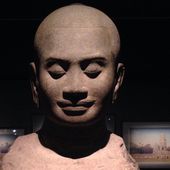 Vous aimez Paris, la culture, l'art, les monuments, les musées, les parcs et jardins...Nous découvrons Paris chaque matin, et partageons avec vous nos balades, nos visites, nos coups de cœur. No...
Paris pour la vie in french